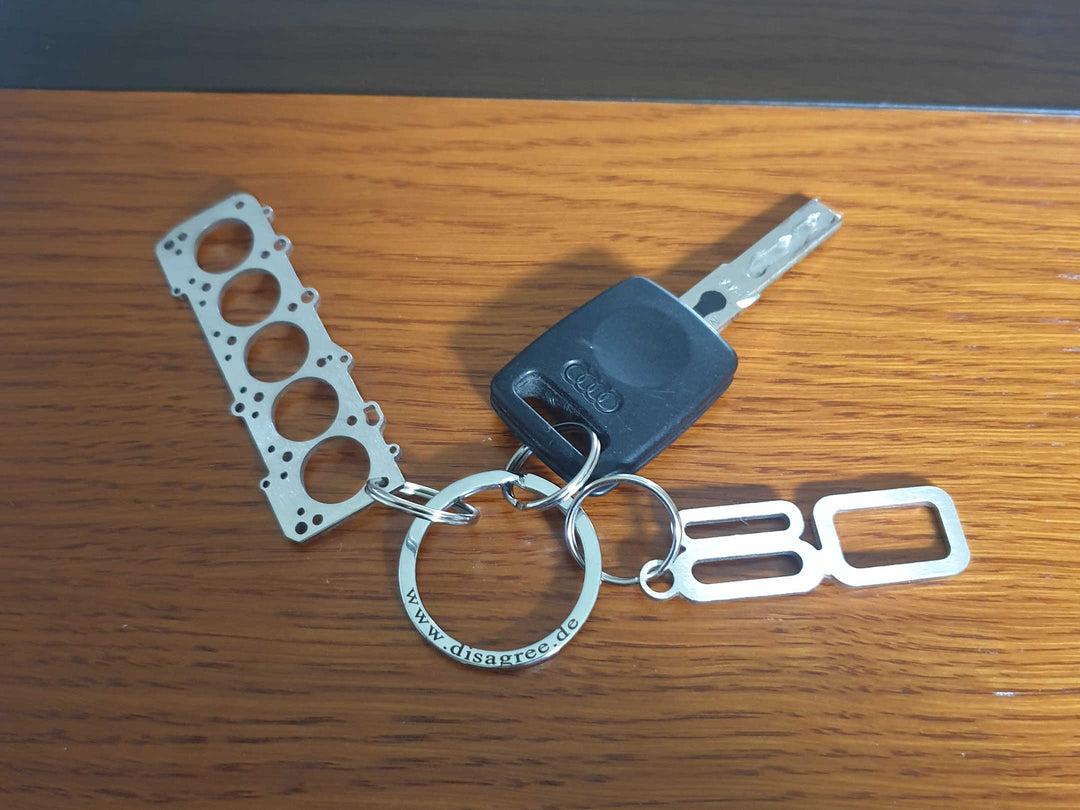 Miniature of a Head Gasket for Audi 20V
Detailed replica of the real head gasket
Absolute conversation starter
Safe bet as a gift for the petrolhead in your life
Will be dispatched within 24 hours.
100(!) days right of return
Brushed finish, looks and feels great
Elaborately processed - absolutely no sharp edges
Made in Germany from V2A stainless steel
The legend lives on: The miniature Audi 20V 5-cylinder engine
Hey car fan! Are you ready to delve into the fascinating history of the Audi 20V 5-cylinder engine? This legendary drive is a symbol of powerful performance and technical excellence. Now you can always carry a piece of this engine history with you - with a stainless steel key fob with a brushed surface that imitates the distinctive shape of a cylinder head gasket.
The Audi 20V 5-cylinder engine has a long and impressive tradition. It was first introduced in the 1980s and impressed drivers worldwide with its unmistakable sound and robust performance. The 20V 5-cylinder engine was a milestone for Audi and found use in models such as the Audi Quattro and Audi Sport Quattro, which won rally championship titles and took drivers' hearts by storm.
Our stainless steel keyring celebrates the power of the Audi 20V 5-cylinder engine. The brushed finish gives it an elegant look, while the detailed shape of a cylinder head gasket emphasizes its authenticity. This high-quality accessory is a homage to the technical brilliance and the fascination of the 20V 5-cylinder engine.
Proudly carry the spirit of the Audi 20V 5-cylinder engine with you and show your passion for top automotive performance. The stainless steel keychain with a brushed surface is not only a stylish accessory, but also a statement of your love for outstanding technology and impressive design.
Conquer the streets in style and get this exclusive keychain now. The Audi 20V 5-cylinder engine lives on in you - in miniature, always ready for new adventures. Let the unmistakable character of this engine shine on your keychain and show the world your enthusiasm for automotive legends.
Please note that the offered key fobs, which are based on VAG engines, are not directly connected to Volkswagen, Audi or other VAG brands.