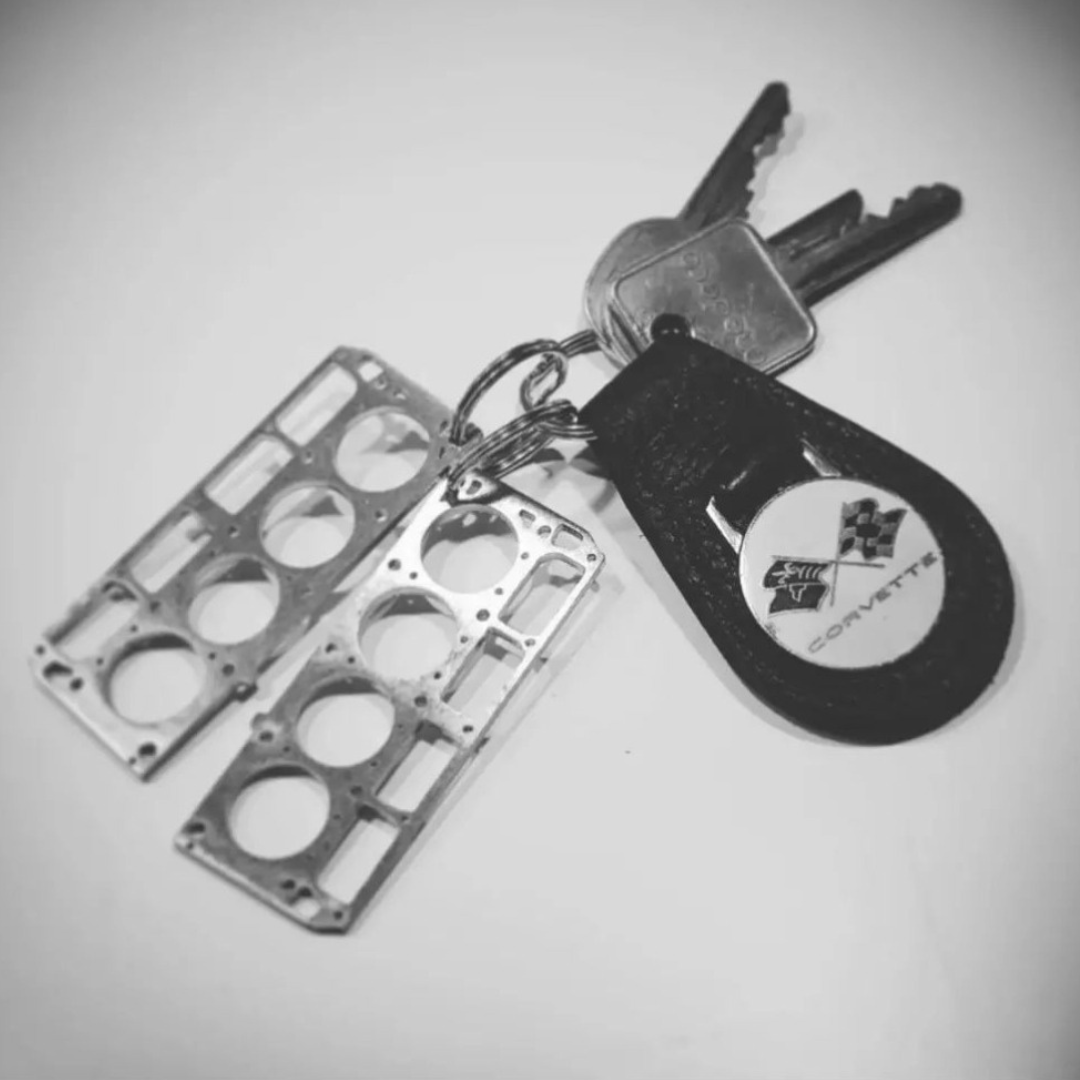 Miniature of a Head Gasket for GM/Chevy LS - Gen 3 / 4
Detailed replica of the real head gasket
Absolute conversation starter
Safe bet as a gift for the petrolhead in your life
Please be aware of the options "1x" and "Set 2x".
Will be dispatched within 24 hours.
100(!) days right to return
Brushed finish, looks and feels great
Elaborately processed - absolutely no sharp edges
Made in Germany from V2A stainless steel
The Chevrolet LS engine, here the Small Block Generation III and IV, is a legendary engine known for its high performance and versatility. This V8 engine was developed by General Motors and used in a variety of Chevrolet vehicles.
The LS engines offer impressive power and torque. They are available in a variety of displacement variants, including 4.8 liters, 5.3 liters, 5.7 liters and 6.2 liters. These engines are characterized by their efficient combustion, high power density and reliability.
The Chevrolet LS engine features state-of-the-art technologies such as direct fuel injection, variable valve timing and cylinder deactivation that help improve fuel efficiency and performance. In addition, thanks to their robust construction and high-quality materials, they are durable and resistant.
Our exclusive head gasket shaped key fob pays homage to the Chevrolet LS engine. Manufactured from high quality stainless steel with a brushed finish, it embodies the distinctive design and robustness of this motor. Every detail of the head gasket has been carefully recreated to preserve the authenticity and aesthetics of the engine.
With this keychain you can express your passion for the Chevrolet LS engine at any time. Whether you're the proud owner of a vehicle with this engine or just a fan of the brand, this keychain is a stylish accessory that will always remind you of your enthusiasm.
Our keychain is made with great attention to detail and the highest quality. The robust stainless steel ensures a long service life, so that you can enjoy your Chevrolet LS key fob for a long time.
Get our Chevrolet LS keychain now and show your connection to the legendary LS engine. An absolute must for every Chevrolet enthusiast!
*Note: This key fob is an unofficial replica and is not affiliated with General Motors LLC or Chevrolet, a trademark of General Motors LLC.